Veterinarian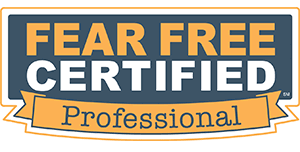 Dr. Katherine Wolfe grew up in Matthews and Greensboro, NC. After completing her undergraduate at UNC-Chapel Hill she earned her DVM at NC State, where she achieved membership in the veterinary honor society, Phi Zeta. She enjoyed a long career in emergency veterinary medicine, beginning at a high quality hospital in Greensboro and then transferring to a 24 hour facility in Charlotte. After only a few years of practice in Charlotte, she was promoted to Medical Director.
Dr Wolfe joined ITAH in 2007, bringing with her passions for emergency medicine and treating traumatic injury. In addition to general practice, she also enjoys dermatology and pathology. She is also a member of SART (State Animal Response Team) which coordinates a rapid, effective response to disasters affecting animals in North Carolina.
When she's not taking care of your pets, Dr. Wolfe enjoys spending time with her dog, Sookie, and her cat, Scilla. She loves The New York Times crossword puzzles, reading, Panthers' football and Tar Heel's basketball.
---